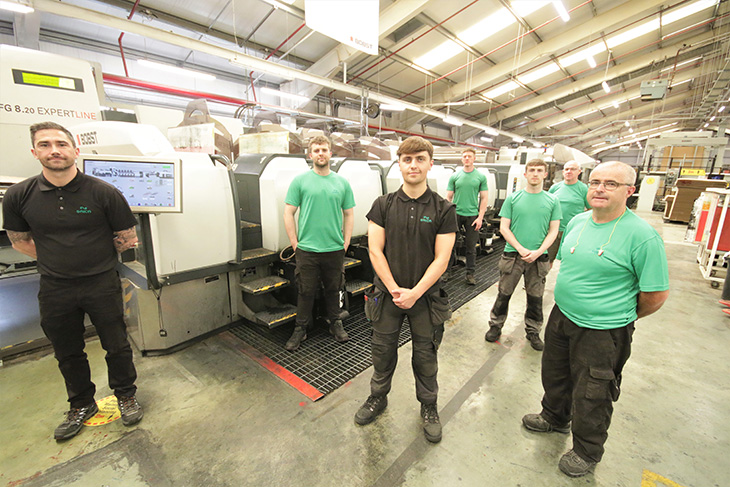 Saica Pack Warrenpoint wins World Productivity Championship
Warrenpoint, UK, 21 Jul 2022
Saica Pack Warrenpoint has won the inaugural World Productivity Championship 2022, beating a field of 28 teams including some of the world's major producers of corrugated packaging from 15 countries around the world.
Organised by Bobst, one the world's leading manufacturers of corrugated converting machinery, the competition was open to any companies across the world with an FFG 8.20 EXPERT or EXPERTLINE Flexo Folder Gluer machine. The competition was a productivity test to see which team could produce the most cumulative feeds over the course of four consecutive days. Overall more than 13.2 million saleable boxes were produced in a 96-hour period.

Taking place between 27th June to 1st July, the data was collected automatically and independently by Bobst.

The Saica Warrenpoint team had a complex mix of jobs to handle during the competition, with 86 sets and 57 different set-ups across the four days, but across the 96 hours the team produced over 1.5 million cases, at an average of over 16,000 feeds per hour, with just 13% of downtime across the entire time period.

The Saica team produced 4 per cent more than its nearest competitor and 18 per cent more than the team in third place. The team led the rankings at the end of every day of the competition.

Kevin Kane, Plant Manager at Saica Pack Warrenpoint, commented: "Teamwork is deeply embedded in the culture at Warrenpoint and engaging and valuing the contributions of the whole team is integral to its success. From making a collective decision to enter the competition, to the preventative maintenance on the machine in advance, planning the work, and delivering it over four consecutive days, this was a stunning team performance that is testament to the brilliant collaborative working culture there. A huge congratulations to the entire team at Warrenpoint for this remarkable achievement."

In late 2020, the Warrenpoint team achieved 191,300 feeds in an 8-hour shift on the Bobst 820, beating the previous record by a company in Victoria Australia by 1,338 feeds. The team then went on to break the previous 24-hour production record held by a company in Wisconsin USA.
About Saica
Saica Group is one of the leading companies in Europe in the manufacture of recycled paper for corrugated board, with an annual production capacity of 3.3 million tons of recycled paper for corrugated board. With more than 10,000 employees and a presence in Spain, France, Italy, Portugal, the United Kingdom, Ireland, Turkey, Luxembourg, the Netherlands and the United States, Saica Group has four business lines: manufacture of recycled paper for corrugated board (Saica Paper), waste management and environmental services (Saica Natur), production of corrugated board packaging (Saica Pack) and flexible packaging (Saica Flex). The group's turnover is €3,598 million, consolidated turnover at Dec. 31, 2021).