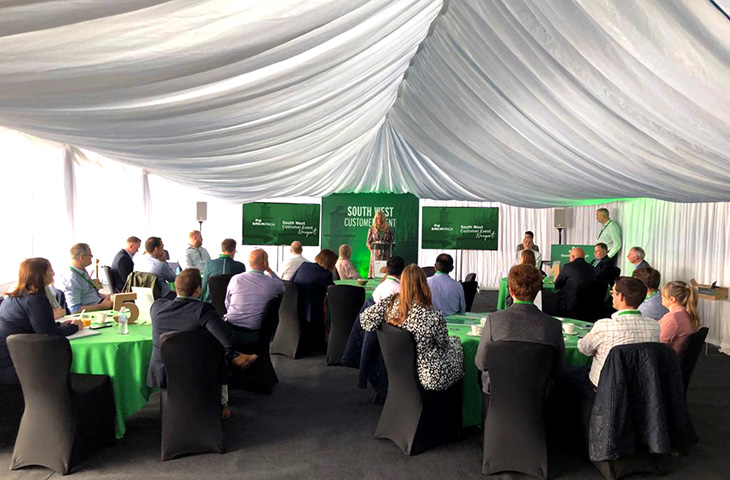 Saica Pack South West welcomes back customers on-site
Thatcham / Newport, 13 Oct 2022
Saica Pack South West Region in the UK recently welcomed back customers to its sites for the first time since the Covid-19 pandemic, hosting a customer event across two sites and two days.
The event was hosted at Saica Pack Thatcham and Saica Pack Newport in late September to demonstrate Saica's commitment to innovation, sustainability and customer experience. Guests were given a tour of both sites in order to give them a greater understanding of Saica's production processes and how its sustainable packaging solutions are manufactured.

Over 30 customers were shown Saica Pack's latest innovations and digital tools and informed about the latest trends and developments in corrugated packaging.

The event also incorporated an interactive design competition, where customers were invited to play a number of games – developed by Saica Pack South West's Technical Centre team - to test their creativity, working with Saica to design some fully operational games made from 100% recycled cardboard.

The designs were scored by customers on appearance, practicality and 'fun rating', with the top prize going to a corrugated basketball game designed by Elena Garcia Castro, Technical Office Designer from Saica Pack Thatcham.

Clare Lucas, Regional Sales Director South West, Saica Pack, commented: "It's hugely important to us that we develop close collaborative relationships with our customers, so being able to invite them on to our sites to give them a better insight into our production processes whilst developing relationships is a highly valuable thing to be able to do. The best packaging ideas and solutions come from having an in-depth understanding on both sides with an open dialogue. Events like this go a long way to stimulating that kind of relationship."