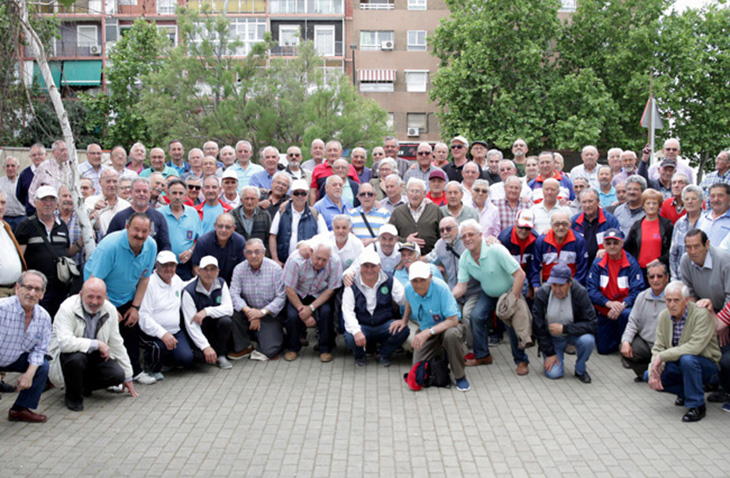 Saica celebrates the 13th Petanca Tournament at the Arrabal festivals
Zaragoza, 12 May 2017
The trio made up of Francés, Calavia and Rubio have, for the third year running, triumphed in one of the most renowned tournaments in the neighbourhood festivities.

This year, 144 players took part.
The final of the 13th edition of the Boules Tournament in the Arrabal Festivities took place this Friday, in the full splendour of the atmosphere of the neighbourhood festivities. This year, the trio of Francés, Calavia y Rubio, from the El Terminillo Senior Centre, took the title for the third year running, beating Grima, Varrios and Mur, from Salvador Allende.
This took place, as has become the norm, in the Plaza de Saica and was a wonderful way to end the championship that, this year, saw a total of 48 teams and 144 players. The list of winners was completed by the team made up of Rodríguez, Ortín and Cabo, from San José, who finished in third place. Fourth place went to the team comprised of Torne, Lorenzo and Millán, also from El Terminillo. What's more, this year various female teams also took part. The competition's closing ceremony took place in Saica's corporative building, where the winners were awarded their prizes. The vice-president of the Municipal Council of El Rabal, José María Rodrigo, the president of the Tío Jorge-Arrabal Neighbourhood Association, Rafael Tejedor and the General Manager of Saica Natur, Víctor Sanz all took part in the ceremony.
In his speech, Rodrigo acknowledged the role that the multinational company from Aragon plays in the area of the city and the support it gives to the neighbourhood festivities. Likewise, he valued the "efforts and actions of the company, within its Social Responsibility measures, with its surrounding environment".
Whilst Sanz expressed his appreciation and congratulated all of the participants and organisers for their efforts. At the same time he reminded everyone that Saica has been in the neighbourhood since 1941 and that throughout all these years it has tried to contribute to the well-being of the residents, groups and also the society in general.
After the prize giving ceremony, the participants, authorities and directives from the company raised a glass of Spanish wine to close the event.