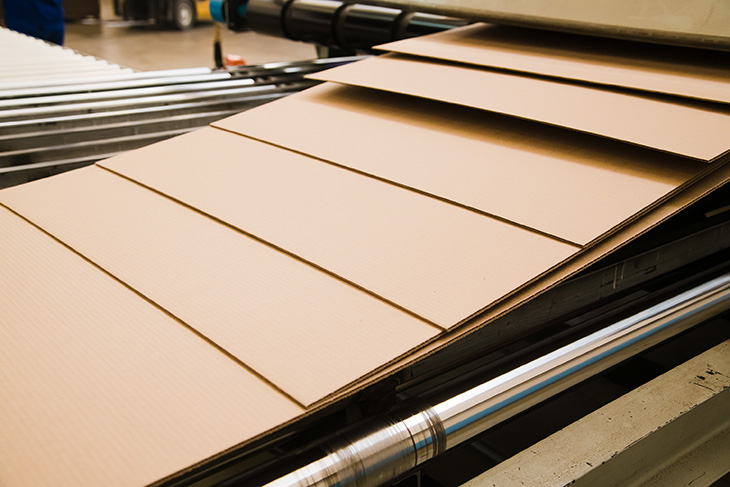 BoxWay, the New Dedicated Owner of Saica Sheet Plants in England is Unveiled
England, 02 Jun 2021
A focused, market led proposition with a well funded investment plan aimed at growing with existing customers and within new emerging markets
BoxWay Packaging Group Limited has announced ambitious plans for the newly incorporated company following the acquisition of Saica sheet plants in Exeter, Peterlee and Telford.
BoxWay's focus is to deliver a new approach and creative solutions to yield new innovations in corrugated packaging as well as fleet of foot agile service to current and future customers.
BoxWay Packaging Group Limited's exciting and ambitious growth plans are fully endorsed by stakeholders and include product development initiatives to capitalise on a corrugated packaging market that is booming, thanks to new emerging challenger brands, the surge of new businesses created from lockdown and the demand for sustainable packaging solutions from customers and consumers.
The number of new companies being created in the UK compared with last year soared in the second half of 2020, according to the Office for National Statistics. The Confederation of Paper Industries has reported a shortage of suitable packaging on the market. BoxWay is well placed to capitalise on the gap.
The group is now in independent ownership and in the hands of industry leader, Andrew Woollard, who has nearly 40 years' experience with Reed, Bowater, SCA, Smurfit Kappa and Saica. Woollard will steer the growth strategy of the new incarnation of BoxWay, which will be underpinned by a significant investment programme over the next 3 years.
Announcing his presence as the new CEO of BoxWay, Woollard promised his strategy will grow the business. "If we have the right quality, a wider capability, act faster, demonstrate more agility and have the capacity, it will yield growth."
The new independent ownership will concentrate investment in four key priority areas: product development, productivity, capability and sales & marketing, as follows:
Product Development –design led solutions, new investments.
Productivity Measures –

including new print and die cutting capacity, improved print and case making capability, speciality gluing.

Fleet of Foot Service -

electric service delivery, fast and more agile speed to market.

Sales and Marketing initiatives -

meet the needs of the new emerging challenger brands BoxWay by investing in systems and training to support a market led, design orientated sales and marketing strategy.
Underpinning all of the investment plans will be BoxWay's commitment to its loyal and hard-working workforce. It will empower staff with more involvement in decision making at its three sites.
Andrew Woollard, CEO, BoxWay explains: "BoxWay is totally committed to supporting current and new customers by providing an independent and entrepreneurial approach to like-minded businesses on a national basis. With the help of some exciting investment plans our ambition is to grow into new markets and alongside challenger brands that have evolved from the pandemic."
"We are in a very fortunate position to have an excellent regional spread across the three sites to deliver our services on a nationwide basis and respond to current and future customer needs as and when required."
Saica Group has given cautious and diligent consideration to the future of its English Sheet Plants and to its long-standing customers in these plants. The growth strategy presented by BoxWay is recognised by Saica Group as an excellent opportunity for customers and employees.
Brian Lister, Country Manager, Saica Pack UK: "Saica Group is very confident that the new leadership and dedicated ownership promises a positive future for our customers, employees and the business at those plants. We remain committed to supporting the business and its three new sites after the transfer to ensure a smooth transition and ongoing growth."
About BoxWay
BoxWay Packaging Group Limited is a newly incorporated corrugated packaging company in the UK made up of 3 well established manufacturing plants across the UK. BoxWay is focussed on delivering innovative customer focused solutions and fleet of foot service to its current and future customers, helping them grow by providing high quality products and services.
BoxWay's independent ownership provides an entrepreneurial approach to like-minded businesses on a national basis and with the help of some exciting investment plans has an ambition to grow into new markets.
About Saica Group

Saica Group is one of the largest European players in the development and production of recycled paper for corrugated board, with a production of 3.2 million tons of recycled paper. With more than 10,000 employees across Spain, France, Italy, Portugal, United Kingdom, Ireland, Turkey, Luxembourg and The Netherlands.
Saica Group has four business areas: production of recycled paper for corrugated board (Saica Paper), waste management and environmental services (Saica Natur), production of corrugated packaging (Saica Pack) and flexible packaging (Saica Flex). The turnover of the multinational is nearly 2,821 million Euros (consolidated sales, 31.12.20).