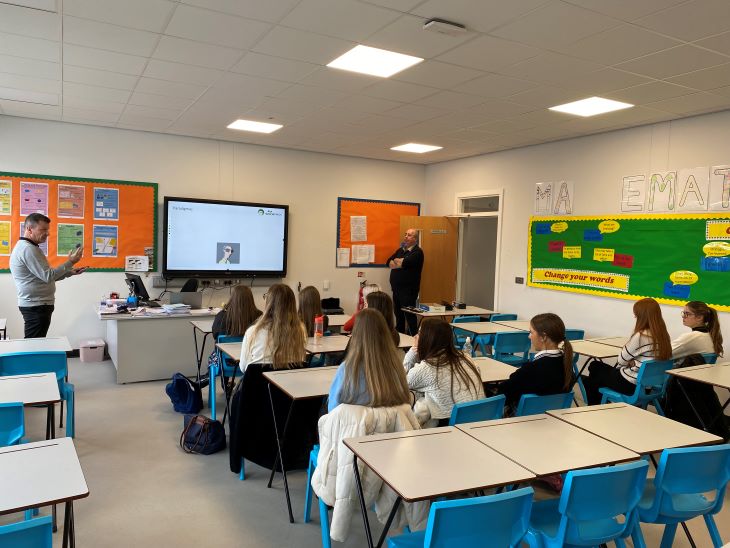 World at Work event supported by Saica´s Warrenpoint site
Warrenpoint, 10 Nov 2023
On Thursday 26 October, members of the Saica team from Saica Pack Warrenpoint site paid a visit to Our Lady's Grammar School Newry to support them with their "World at Work" event. Attended by Year 13 pupils, the workshop and mock interviews were conducted by three Saica´s employees.
Eamon McCormick, Vincent Gormley and Sean McCombe, employees of Saica Group, presented the history of Saica and the Warrenpoint site. Then, they provided a lecture on Paradigms: "The set of unchanging truths that nobody in the company questions", which emphasised the value of challenging paradigms and other´s perspectives to ensure we keep moving forward. Last but not least, a fun activity was carried out which involved 20 pieces of spaghetti, an infinite amount of tape and a single marshmallow. Students were broken up into teams with the objective of building a tower as high as possible. There was only one rule: the marshmallow had to be at the top of the tower. What an amazing activity to highlight the importance of teamwork, communication and leadership!
"During the workshop it was great to see how engaged the pupils were by all the fantastic questions they asked. It was a pleasure to support the event as it was so well organised, and the students were so enthusiastic and keen to learn. They are a credit to their teachers and to Our Lady's Grammar School. We look forward to support more events in the future", commented Vincent Gormley, QSE Manager.
Louise Burns, the teacher who helped organise the event mentioned: "We, in Our Lady's Grammar School, would like to extend a warm thank you to the members of Saica Group who attended our World of Work event. Thank you for providing such an engaging workshop for our pupils and helping us to facilitate the mock interview sessions. It was a wonderful learning experience for the students and really opened their eyes to all the career possibilities available within our community. We hope to continue fostering strong links between our school and the wonderful businesses around us ".