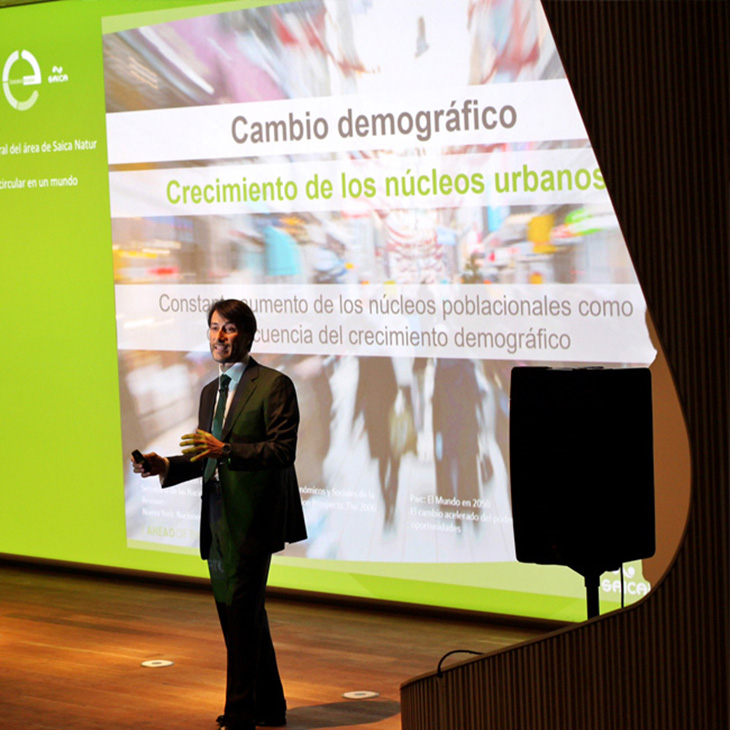 Saica Spreads the Environmental and Business Benefits of Circular Economy
Madrid, 21 Apr 2016
The multinational company has organised a congress called "How? Circular Economy in a Changing World" in order to share the success stories regarding the application of this business model that aims for nothing to go to landfill with different economic agents.
In the event, speakers from the CEOE (Spanish Confederation of Business Organisations), and companies such as General Motors, Carrefour and Calidad Pascual took part.
Thanks to its application, Saica has achieved efficiency in the use of raw materials, it has improved its water footprint and energy recovery and it has reduced its carbon footprint.

Saica, which is a leading company in the development and production of sustainable solutions for the manufacturing of paper and corrugated cardboard packaging in the Iberian Peninsula, and its later recovery, this Thursday has organised its First Congress on Circular Economy. In this event the multinational company aims to boost the integration of this business model as one of the key factors in order to achieve sustainability and the aim of not sending anything to landfill.
Under the slogan "How? Circular Economy in a Changing World", Saica has put together a forum in which it can transmit its experience in this field, as well as that of a series of notable speakers that transmitted to the Fundación Francisco Giner de los Ríos auditorium a real vision of the benefits of implementing circular economy models in companies.
In this regard, the congress saw interventions from the technical manager of General Motors in Figueruelas (Zaragoza), Alejo Catalán; Carrefour's Quality and Sustainable Development Manager, Mariano Rodríguez, who explained the application of circular economy in the waste management of the multinational distributer; the head of industrial purchasing at Calidad Pascual, Juan Carlos López, and the head of Waste Management and Chemical Products Polices at CEOE, Eva Rodríguez, who listed the synergies and opportunities of new business models that arise thanks to the implementation of this economic model.
The general manager of the Saica Group, Pedro Gascón, explained that the spirit of the day is framed within the company's ambition to extend its concern about sustainable development to the different economic agents. "From our beginnings, Saica's activity has been guided by two great commitments: one with our customers, and the other with the environment in which we work. Our business model has been developed in line with the principles of circular economy that have been, and will be, one of the key elements in our future growth", Gascón explained.
Thus, Saica has maintained a strong and decided commitment to this model which has allowed it to achieve efficiency in the use of raw materials, the improvement of its water footprint and energy recovery and the reduction of its carbon footprint.
"We contribute to generating value from, up until now, what was waste", said Gascón.
The general manager of Saica Natur, Víctor Sanz, defended that as it currently stands "with the population growing each day and standards of living continuing to increase, the world needs a new economic system that guarantees its survival".
"The planet has a limited number of natural resources, thus a new model is necessary for its survival, and the survival of all the species that inhabit it; new organisation philosophies and economic systems are needed that are inspired by nature and that have the main aim of responsibly using raw materials", stated Sanz.
About Saica Group
Saica Group is one of the largest European players in the development and production of recycled paper for corrugated board, with a production of 3.2 million tons of recycled paper. With more than 10,000 employees across Spain, France, Italy, Portugal, United Kingdom, Ireland, Turkey, Luxembourg and The Netherlands.
Saica Group has four business areas: production of recycled paper for corrugated board (Saica Paper), waste management and environmental services (Saica Natur), production of corrugated packaging (Saica Pack) and flexible packaging (Saica Flex). The turnover of the multinational is nearly 3.832 million Euros (aggregate sales, 31.12.19).