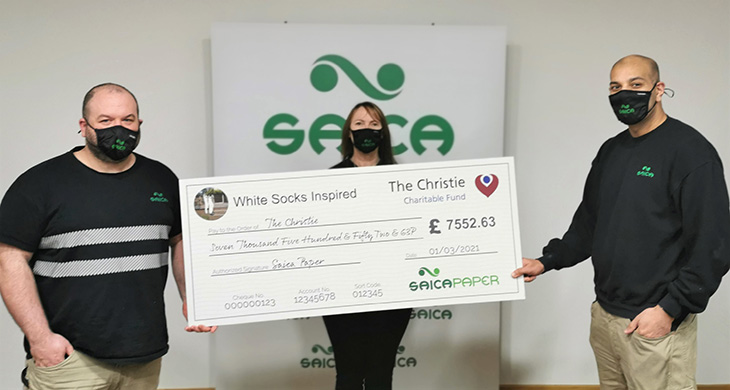 Saica Paper UK supports The Christie charity with running challenge
Carrington, UK, 12 Apr 2021
Saica Paper UK hosts several charity events each year, but this initiative is one of the most special to the date. Following the cancer diagnosis of an employee, Saica Paper wanted to show how valued the employee is to the team. The initiative, coordinated by Gurminder Bhamra, employee and close friend, organised a running challenge to raise funds to support The Christie NHS Foundation Trust, a hospital specialised in cancer treatment.
Saica Paper wanted to support and agreed to contribute £2 for every Km completed during January, with a final "distance" of 2984km. The challenge was set for any colleagues, friends or family to complete as a collective 990km during January. During this month, more than 80 colleagues, friends and members of the family were involved, raising almost £7,500.00. 
All efforts were coordinated with a Facebook group and a Go Fund Me page. Both pages made it possible to involve all participants, and allowed the employee to be an active part of the initiative. 
Saica Paper will look to continue to support this charity in the future.