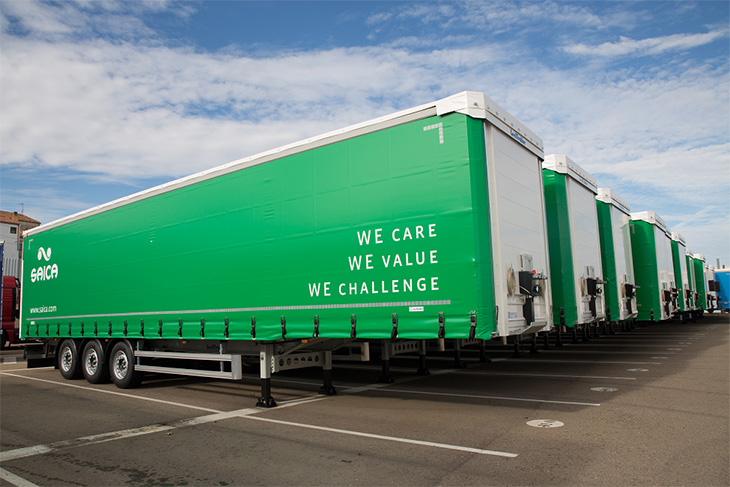 Saica Paper UK improves its delivery service with safer trucks
Manchester, 11 Feb 2020
UK division will use vehicles specifically designed to transport paper reels, improving safety and quality on delivery.
Spain will have its own test to adapt the project to the local market.
Saica Paper United Kingdom will expand the use of trucks designed to transport paper reels, an upgrade that allows Saica Paper to improve its levels of safety and quality in customer delivery. In addition, these vehicles will be tested to its use in Spain.
The pilot project started in 2018 in collaboration with Bibby Distribution. One of the main challenges was how to improve the quality in product delivery when facing a demanding market and adverse weather conditions. New vehicles were specifically designed to transport reels, enhancing safety in loading and unloading operations as well as boosting watertight trailers.
After the pilot test and its good results, with a cut in claims for wet reels, Saica Paper has decided to introduce this new design in most of its truck fleet in United Kingdom, a process which will take place along 2020.Furthermore, another test has been launched in Spain, in collaboration with Geodis and Lecitrailer and taking into account all experience acquired in UK market. Two first trailers with the improved features have already been introduced in Saica Paper El Burgo de Ebro plant.
This project is part of Saica Group commitment to improve customer service and to boost safety on every operation.
About Saica Group

Saica Group is one of the largest European players in the development and production of recycled paper for corrugated board, with a production of 3.2 million tons of recycled paper. With more than 10,000 employees across Spain, France, Italy, Portugal, United Kingdom, Ireland, Turkey, Luxembourg and The Netherlands.
Saica Group has four business areas: production of recycled paper for corrugated board (Saica Paper), waste management and environmental services (Saica Natur), production of corrugated packaging (Saica Pack) and flexible packaging (Saica Flex). The turnover of the multinational is nearly 3.832 million Euros (aggregate sales, 31.12.19).