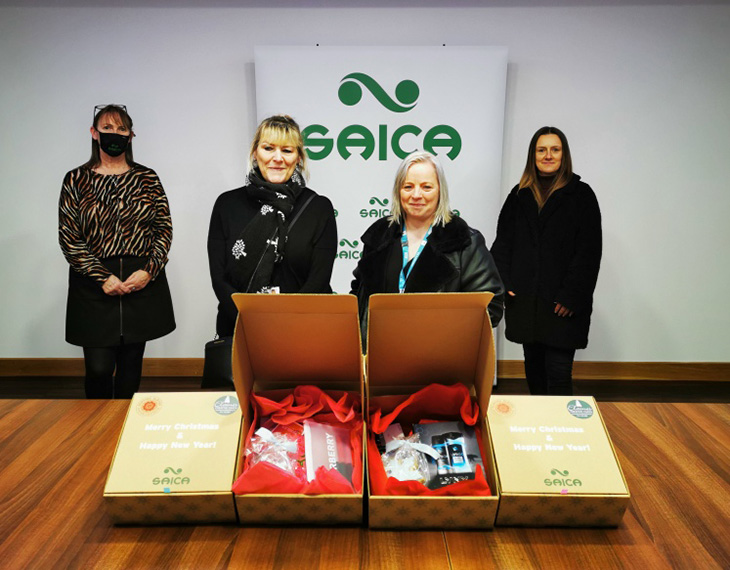 Saica Paper UK and Poppies 11 are making a difference in Trafford
Trafford; United Kingdom, 18 Dec 2020
Saica Paper UK and Poppies 11 joined forces to deliver memory boxes for people that are living with Dementia and Isolation due to Covid-19.
The delivery of these boxes which were planned for mid-October had to be postponed until December due to the Covid-19 restrictions implemented by the government. However, as soon as the mobility limitations where eased, the team handed the memory boxes to their respectful owners: people that were nominated by their friends, relatives and acquaintances. Special boxes were also given to Care Leavers (young adults leaving foster homes), containing slightly different items that could be used as Christmas presents.
"We want to be able to support the local business and also to support people that are struggling within the community" words from Jeanette Sweeney, the Saica Paper Mill Assistant who has been deeply involved in the organisation of this event from the election of the nominees to the delivery of the 100 memory boxes.
These memory boxes will not only help to evoke memories of days gone by, but will also help to bring closer those families and friends that cannot see each other due to the extraordinary circumstances caused by the pandemic.
The recipients of these boxes expressed their gratitude to all the companies involved in this initiative. But they were not the only ones. A lot of positive feedback has come from the friends and relatives who nominated their loved ones.
Saica Group continues to support local communities where the company operates to fight against the effects of the pandemic.