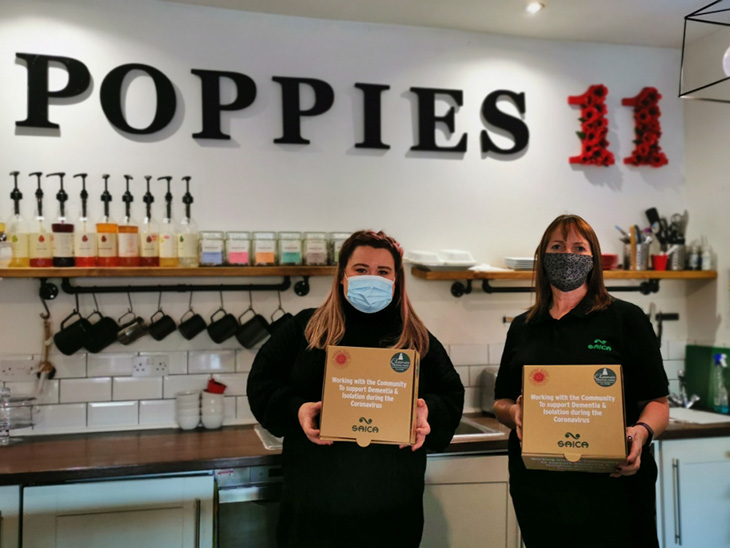 Saica Paper and Poppies 11 coffee shop join forces to launch a charitable event
Manchester, United Kingdom, 25 Nov 2020
Saica Paper in the United Kingdom and Poppies 11 coffee shop in Davyhulme have teamed up to deliver 100 free afternoon tea boxes for people in the local area who are living with Dementia or have become isolated due to Covid-19.
The memory boxes which will be delivered during December, will be totally free and hand-delivered. The boxes will not only include an afternoon tea and cakes (provided by Elaine's Cakes), but also stories from customers who have been attending workshops run by the coffee shop. This gesture aims to help evoke and share memories of days gone by, which has helped previous customers who attended Poppies 11 workshops to generate conversations, but more importantly, to prevent loneliness and isolation. These boxes will be delivered according to a nomination process. To nominate a candidate that should receive the box, people need to send an email to poppieselevencaffee@gmail.com with the full name, address and contact number of their nominee and the reason why they believe that their nominee wants to receive a box. The nominees can be close relatives, friends or acquaintances that live in these difficult situations.
In addition, a raffle will be run to help raise funds these special boxes. People from the local community will be able to show their support and have the chance of winning some great prizes by purchasing a ticket from either Nikki & Co, Poppies 11 or Elaine' Cakes.