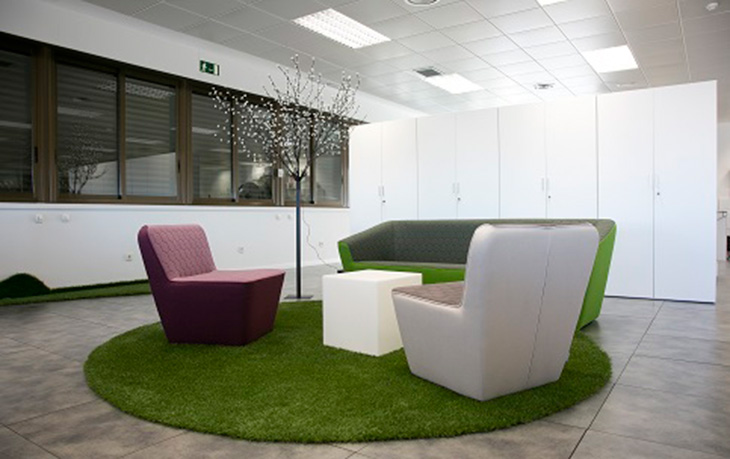 Saica Pack's Green Room: From idea to reality in one day
Zaragoza, 03 Dec 2016
Saica Pack's customers are going from initial idea to fully-functioning sample packaging in just one day thanks to the company's experienced creative designers and the 'Green Room'. The Green Room, part of Saica's National Development Centre (NDC) at its state-ofthe-art PM-11 facility in Greater Manchester, boasts a workshop style environment where customers can bring an idea to life.
Design expertise and on-site digital print technology allow Saica's creative team to guide customers through the creative process of finding the perfect pack – and walk away with a working prototype. Offering an integrated packaging design and technical service speeds up the route to market, removing the cumbersome task of remotely approving design changes and amending artwork, improving overall product design efficiency.
Saica's in-depth understanding of corrugated structural design, performance packaging and print capabilities also removes the need for multiple design revisions. Ultimately, the Green Room experience makes it possible for the customer to take home a fully printed sample of their packaging idea after just one session. In addition to customer solutions the service has led to an exciting innovation for Saica in the creation of three patented "self-facing" packaging designs.
These designs ensure that customer's products are well presented at the shelf edge, reducing the need for retail staff to spend time making shelves look full and the need for retailers to invest in self-facing equipment. Stuart Simm, National Development Centre Manager at Saica, said: "The Green Room truly is a game-changer in packaging design. A process that in the past could have taken weeks can now be completed in just one day if we can get all parties in the room during the designing stage. We can literally turn a customer's sketch on a serviette into a fully printed box for them to take back to the office.
"It's down to the incredible expertise of our design teams that we were able to develop the self-facing patents that will save retailers both time and money. This facility really puts us on the map as a UK hub for innovation, creativity and packaging design."