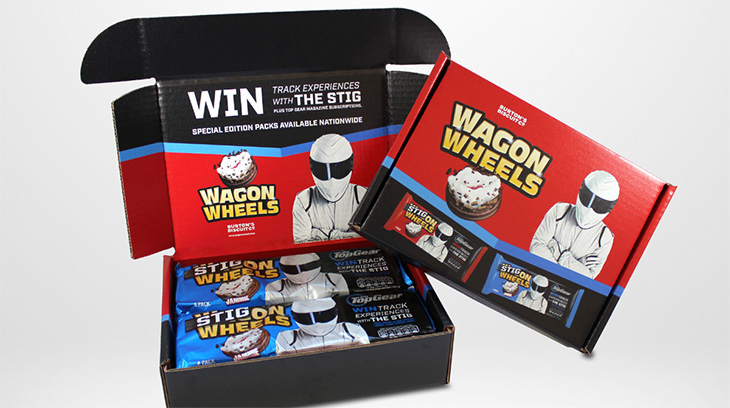 Saica Pack's Digital Print Service helps fuel Burton's Biscuits 'Top Gear' campaign
Manchester, 14 May 2021
Burton's Biscuit Company's long-standing relationship with Saica Pack keeps driving forward with impactful Digital Print Samples produced to support their latest Wagon Wheels campaign
Saica Pack UKI are proud to have supported its long-term customer Burton's Biscuit Company with their new and epic partnership with Top Gear. 
Saica Pack were challenged by Burton's to produce promotional printed packs for their new Special Edition Wagon Wheels Biscuits within a short timeframe. This was to enable Burton's to accelerate its promotional campaign and showcase its latest Wagon Wheel's Top Gear Biscuits to its customers.
The promotional boxes feature the biggest (and most anonymous) racing driver 'The Stig'' and were printed at Saica Pack's National Development Centre, PM11 in Manchester. The Digital Print Facility enables designers to print impactful artwork directly onto corrugated substrate, with no tooling or print stereos required. This agile service enables fast turnarounds and is ideal for packaging development prototypes and low volume sample production. The digitally printed samples were printed on both the inside and outer liners to ensure that the corrugated pack delivers an impactful unboxing experience to Burton's customers.
The retail version of the box has also been in full scale production at Saica Pack's Newport facility on the Alexandra Docks and the product is now on display at all retailers that stock Wagon Wheels.
Saica Pack Account Manager Jennifer Gladwyn said: "We are delighted that Burton's Biscuit Company have been utilizing Saica Pack's Digital Print service to great effect, which has helped them serve promotional packaging mock-ups to their customers within very short timeframes but with maximum impact".