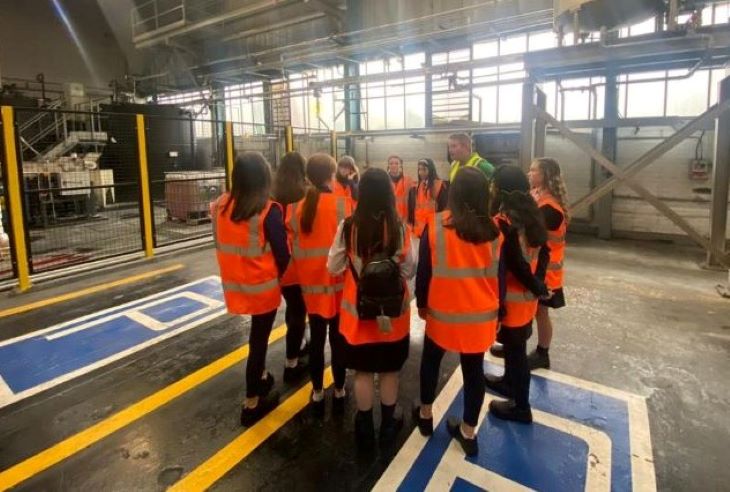 Saica Pack Warrenpoint hosted students from Our Lady´s Grammar Newry
Warrenpoint, 02 Oct 2023
• The students enjoyed a presentation which helped them have a global idea about the Group and a better understanding of the mission and values.
In the beginning of September, Saica Group received a group of 21 students from Our Lady´s Grammar Newry School. The aim was to show them a variety of careers within the industrial sector while explaining the function of a corrugated plant. It was a magnificent experience for the students to see the world of work and open their minds to what possibilities are on offer when they partake in their careers.
The students were taken through a presentation which helped them understand Saica's mission and values while also learning about its magnitude and scope. Furthermore, they were taught the history of their local Warrenpoint site. To conclude the event, they took pleasure in a guided tour of the site where they could observe processes in action. After their stay, Sean McCombe, Regional HR Business Partner in Ireland commented:
"It is great to have engagement from one of the local schools in our area and the opportunity to show them the workings of industry, our history as well as the careers that we can offer young people. The students were fantastic and so well mannered, they are great credit to their teachers and to Our Lady's Grammar School. We are looking forward to continuing our engagement with them and other schools going forward."
Overall, the visit was a real success with their teachers commenting how eye opening the day had been for the students:
"We were greeted with immense hospitality, and we've taken away with us a lot of information and fond memories. After the amazing factory tour, it is safe to say that many from our school will be considering a job at Saica!"- Molly O'Neill, Student from Our Lady´s Grammar Newry.