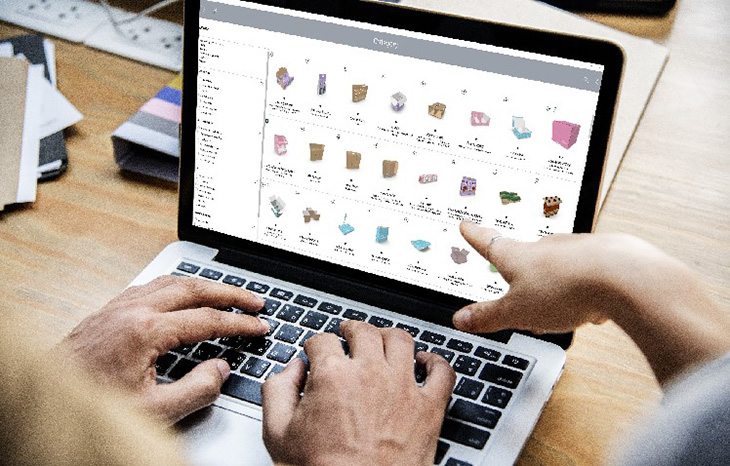 Saica Pack launches innovative 'Solutions Catalogue' application
United Kingdom, 13 Jul 2020
Saica Pack has developed and launched its new Solutions Catalogue, which showcases their extensive array of packaging designs and innovations on a digital, easy-to-use application.
Facilitated by the Saica Pack sales team, customers will benefit from the streamlined user experience. They will have the opportunity to browse hundreds of innovative packaging designs, and to virtually personalise products. The application allows the Saica Pack sales team to digitally bring customers' packaging ideas and vision to life. 
The application has been streamlined to ensure customers can filter packaging designs suited to different markets, which include; Fast Moving Consumer Goods, E-Commerce, Spirits & Wine, Fresh Pack, Industry, Services, and Distribution. 
David Wilbraham, Sales, Commercial and Marketing Director for UK & Ireland said: 
"Saica Pack has always put customers at the heart of everything we do, and as proud innovators, we are delighted to launch our Solutions Catalogue. 
"Our unique application provides customers with the opportunity to view hundreds of packaging designs and develop a bespoke product, all within an accessible and easy-to-use format."
As working practices adapt and change in the future, the Solutions Catalogue will allow Saica Pack sales staff to share the application virtually, allowing customers to engage with Saica's new packaging innovations and ideas, without the requirement of face-to-face meetings.   
The application will be accessible through Saica's Digital Briefcase, further enhancing their complete 'end-to-end' packaging solution. The Solutions Catalogue includes high-quality designs from technical employees across Saica's global operations, ensuring the customer views the very latest, state-of-the-art packaging innovations.  
About Saica Group

Saica Group is one of the largest European players in the development and production of recycled paper for corrugated board, with a production of 3.2 million tons of recycled paper. With more than 10,000 employees across Spain, France, Italy, Portugal, United Kingdom, Ireland, Turkey, Luxembourg and The Netherlands.
Saica Group has four business areas: production of recycled paper for corrugated board (Saica Paper), waste management and environmental services (Saica Natur), production of corrugated packaging (Saica Pack) and flexible packaging (Saica Flex). The turnover of the multinational is nearly 3.832 million Euros (aggregate sales, 31.12.19).