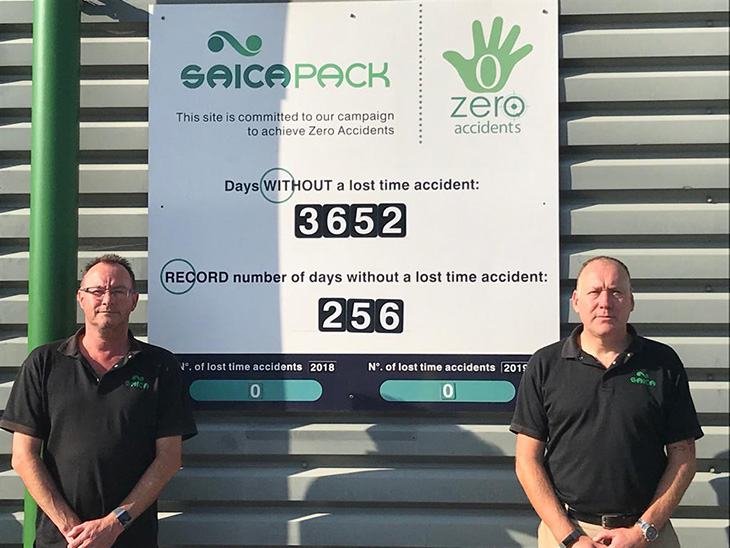 Saica Pack Exeter celebrates 10 years accident free
Saica Pack Exeter, 15 Oct 2020
Saica Pack has gone more than a decade without a lost-time accident at their corrugated packaging plant in Sowton, Exeter. 
After introducing a series of measures, such as regular internal training sessions and monthly behavioural reviews, the specialist packaging facility has guaranteed the safety of its skilled employees with no registered accidents on site since September 2010. 

The facility's Plant Manager, Andrew McDonald Woods, celebrated the achievement and congratulated the team for their efforts. 
Following the tenth anniversary of the previous incident, Andrew stated: "Saica is always looking for innovative ways to streamline its service, and we aim to do this whilst protecting the health and well-being of our employees. Despite our staff regularly working with heavy machinery, we have coordinated and implemented a safe and secure method of manufacturing which prevents our team's health being compromised. 
"Our regular reviews and training sessions have allowed us to develop our safety measures to ensure we can continue to protect our staff; something that will always remain our priority. This achievement is also the result of our fantastic team on site, who continue to look after one another day-in, day-out, and this commitment should be recognised and celebrated."
Saica Pack Exeter, located on Sowton Industrial Estate, has a skilled workforce of 24 employees. The organisation produces corrugated packaging for a variety of clients across the Agriculture, Food and Beverage, Healthcare and General Manufacturing sectors.
The site recently benefitted from several restoration works including the re-painting of the South elevation, guttering and trims to the building and the installation of a new roof. Since installation, the roof has significantly lowered the facility's heating costs and improved lighting on the factory floor. 
As part of the roof's refurbishment, 222 solar panels were installed to provide a sustainable form of energy for the production process. In total, the panels produce approximately 30% more energy than the site requires meaning the facility now provides renewable power to the local grid, fueling Saica's commitment to the environment - a value at the heart of all its operations. 
About Saica Group
Saica Group is one of the largest European players in the development and production of recycled paper for corrugated board, with a production of 3.2 million tons of recycled paper. With more than 10,000 employees across Spain, France, Italy, Portugal, United Kingdom, Ireland, Turkey, Luxembourg and The Netherlands.
Saica Group has four business areas: production of recycled paper for corrugated board (Saica Paper), waste management and environmental services (Saica Natur), production of corrugated packaging (Saica Pack) and flexible packaging (Saica Flex). The turnover of the multinational is nearly 3.832 million Euros (aggregate sales, 31.12.19).