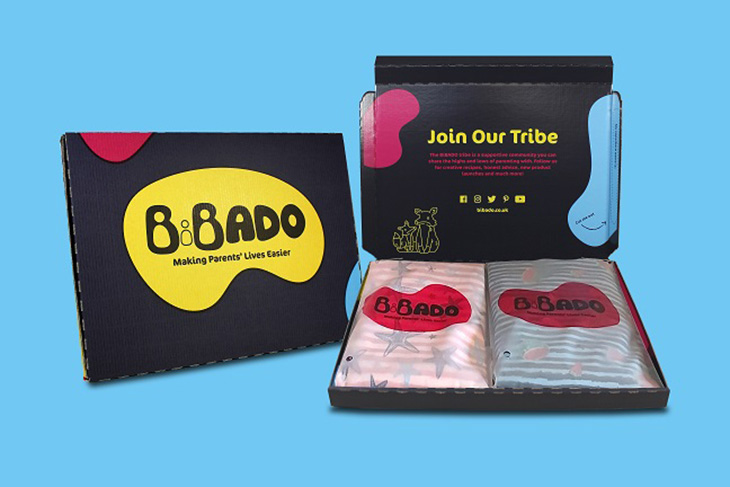 Saica Pack and Bibado create unique e-commerce design
Newport, United Kingdom, 23 Nov 2020
Corrugated Packaging experts Saica Pack has joined forces with babywear brand BIBaDO to design and create a visually captivating packaging solution for their innovative range of bibs.
The award-winning bib, designed to be worn like a top, is the only product on the market which straps to a child's highchair, covering the gap between them and their tray.   In turn, it significantly reduces mess and parents can save up to thirty minutes a day when weaning young children. 
Since launching the product, it has received glowing reviews from parents across the country, with customers such as Stacey Solomon and Lucy Mecklenburgh taking to social media to express their delight with the product. 
After being challenged by BIBaDO to create something that placed emphasis on quality and style, Saica Pack developed a nine colour e-commerce pack with an adhesive strip that visually reflects the personality of the brand. Impactful graphics with key brand messages are printed on both the inside and outside of the box to ensure that the corrugated pack becomes a key part of the customers unboxing experience. A parent-friendly tear-strip opening feature has also been integrated to enable the consumer to conveniently open the pack and access the products.
David Wilbraham, Sales, Commercial & Marketing Director UK & Ireland, said: "With a momentous shift towards online retail over recent years, the role of packaging to enhance the customer experience has greatly increased. Our BIBaDO design has exceeded the customer's expectations and created an eye-catching container for the product. It reflects the brand's identity, and we are delighted with the response we have had so far." 
Due to its intricate design, the packaging requires two printers to produce it, and it utilizes the recent invertor which allows the board to be printed on the masterflex which can then be turned and printed on the inner liner. 
The box is produced at Saica Pack's Newport facility on the Alexandra Docks which recently benefited from internal investment to develop the facility, ensuring it has the technology required to print such complex designs. 
About Saica Group
Saica Group is one of the largest European players in the development and production of recycled paper for corrugated board, with a production of 3.2 million tons of recycled paper. With more than 10,000 employees across Spain, France, Italy, Portugal, United Kingdom, Ireland, Turkey, Luxembourg and The Netherlands.
Saica Group has four business areas: production of recycled paper for corrugated board (Saica Paper), waste management and environmental services (Saica Natur), production of corrugated packaging (Saica Pack) and flexible packaging (Saica Flex). The turnover of the multinational is nearly 3.832 million Euros (aggregate sales, 31.12.19).