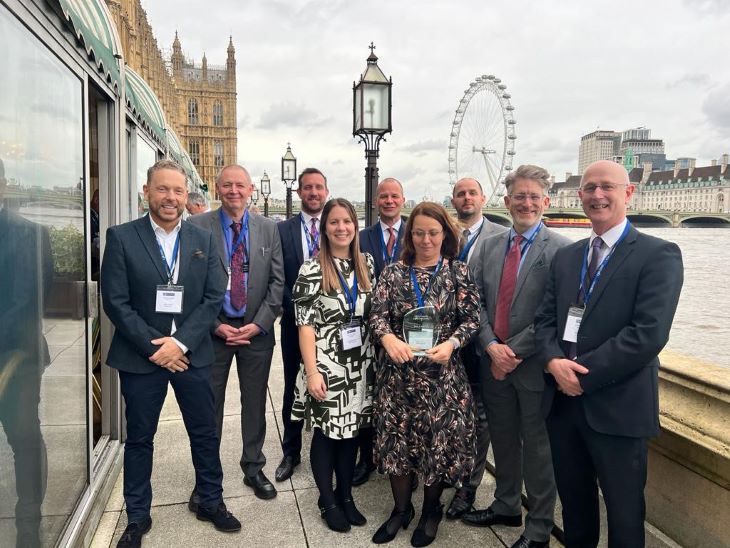 Saica Group scoops award for "commitment to health and safety improvement"
London, 05 Apr 2023
Saica Group has won a prestigious award in the Paper Industry Gold Awards 2023, hosted by the Confederation of Paper Industries (CPI), for what the judges described as a "corporate commitment to health and safety improvement" across its operations.
Despite Saica Paper and Saica Pack submitting three individual entries to the awards between them covering fire prevention, a safety transformation programme and a highway code for safety, the judges took the unusual step of giving the award to the entire organisation, on the combined strength of all three entries.

When presenting the award, CPI Director Andrew Large explained that "the underlying rationale from the judges was that the three entries showed a corporate commitment to health and safety improvement across the operations of Saica that transcended any individual entry and that the best way to reward that was to reward Saica collectively for the work being done".

He went on the say that in the opinion of the judges, Saica Group "has made a very substantial commitment to improving both their own health and safety performance and that of the industry, across the whole range of their operations."

The award, which recognises companies that have gone above and beyond to ensure a safer and healthier working environment for their staff, whether that be through innovative safety projects or initiatives to support the health of their staff, gives recognition for three initiatives.

The first is Saica Paper's efforts in fire prevention, having invested in various items of state-of-the-art firefighting equipment to ensure fast fire response in the Paper for Recovery Yard, whilst simultaneously ensuring physical presence of site emergency responders is kept to a minimum. To this end, Saica Paper has carried out training and exercises with site emergency responders and site-based contractors, and presented its fire management arrangements at the CPI Safety Conference in June 2022.

Saica Paper has also implemented a Highway Code for Safety, a system which manages maintenance and intervention works throughout their lifecycle, to include planning for safety, risk assessment, safe isolation of plant, and issuing and closing of permits. Controlled under Saica's biometric electronic Permit to Work system, the code has been rolled out to all stakeholders, specifying the site safety rules, roles and responsibilities for carrying out these works safely.

Thirdly, the award recognises Saica's "Licence to Operate Safely (LTOS)" training and development programme. The programme comprises a suite of courses, which are tailored to support the different roles and specific health and safety requirements of different groups within the business.

The programme, representing a signiificant investment by Saica, aimed to improve awareness and understanding of health and safety roles and responsibilities across Executives, the Country Leadership Team, Plant Managers, HSE Managers and First Line Managers. It ensures that best-in-class health and safety practices are employed and cascaded throughout the business, with responsibilities treated as "collective commitments" that are progressed, checked, and appropriately resourced at each business level.

Gareth Williams, Group Health & Safety Director, Saica Group, commented: "Over recent years we have evolved a bespoke health and safety framework that directs all divisions and organisational levels towards best practice H&S standards and priority improvement planning and delivery. Strong corporate commitment and governance has driven a progressive and passionate implementation towards the standards we set and it is very pleasing to see the CPI congratulate several priority initiatives arising from our framework approach."