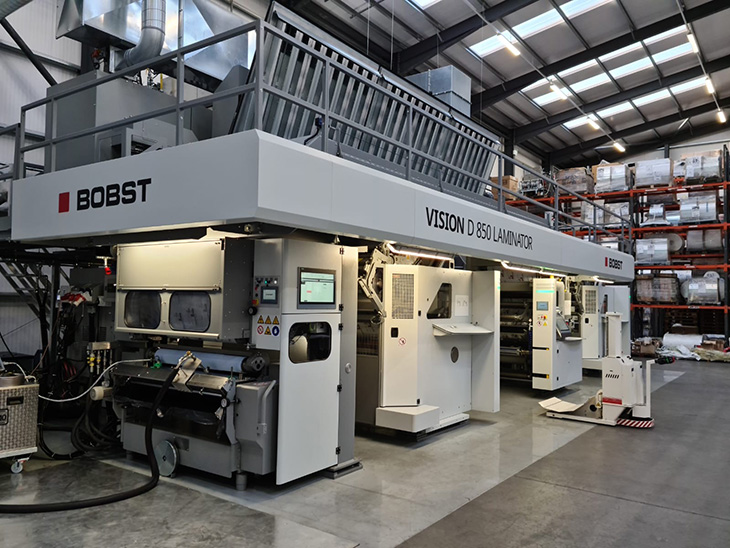 Saica Flex Enniskillen invests over a million in state-of-the-art equipment
Enniskillen, Northen Ireland, 10 Nov 2020
Leading flexible packaging experts Saica Flex Enniskillen has invested in a Bobst CL850 lamination machine, transforming its offer while supporting the ongoing growth in its lamination and cold seal categories. 
The £1.6m investment will enhance Saica Flex's capabilities by allowing the business to laminate a variety of designs, while its high operational efficiency means it can consistently produce high-quality products. 
The machine is due to be operational by 1 November 2020, and the broad selection of products means the organisation can now service new industries such as pet food, beverages, confectionery and pharmaceutical. 
In turn, it will allow Saica Flex's Enniskillen facility to meet local demand whilst delivering an excellent business continuity platform, providing increased versatility and confidence to new and existing clients across Ireland and the wider UK. 
Commenting on the new machinery, James Beresford-Wylie, Saica Flex UK sales director, said: "At Saica Flex we are committed to growing our operations so we can continue to offer innovative packaging solutions for new and existing clients across a broad range of industries. 
"The investment provides a real opportunity to expand our offering while building upon the growing demand for lamination and cold seal products. We are keen to start using the exciting new equipment as soon as possible."
By purchasing this machinery, Saica Flex is aiming to build on its substantial UK expertise in lamination processes and cold-seal products developed at its Buxton site, further complemented by its sister sites across Saica Flex in Europe.
The machinery will help to reduce the Northern Irish market dependency on other facilities to produce finished goods, which becomes increasingly important as supply chains look to overcome the impact of the UK leaving the European Union. 
About Saica Group
Saica Group is one of the largest European players in the development and production of recycled paper for corrugated board, with a production of 3.2 million tons of recycled paper. With more than 10,000 employees across Spain, France, Italy, Portugal, United Kingdom, Ireland, Turkey, Luxembourg and The Netherlands.
Saica Group has four business areas: production of recycled paper for corrugated board (Saica Paper), waste management and environmental services (Saica Natur), production of corrugated packaging (Saica Pack) and flexible packaging (Saica Flex). The turnover of the multinational is nearly 3.832 million Euros (aggregate sales, 31.12.19).