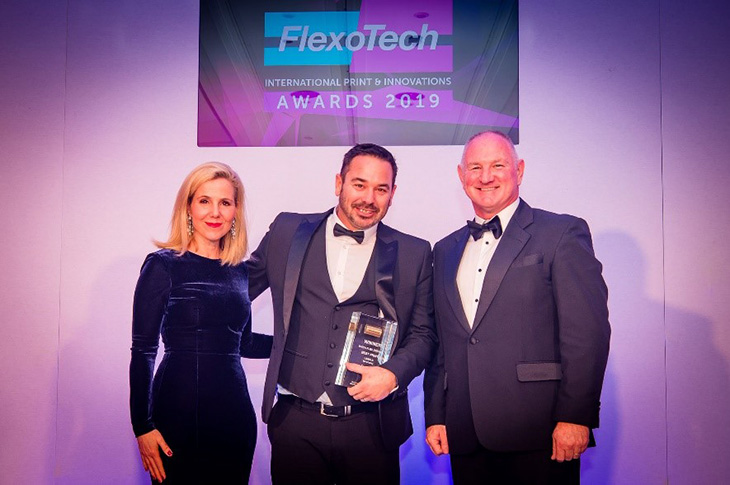 Saica Flex Deeside wins FlexoTech Award 2019
London, 25 Nov 2019
Saica Flex Deeside have once again triumphed at the annual FlexoTech International Print & Innovations Awards 2019, held on 16th October at The Royal Lancaster London. The glittering black tie evening event was hosted by actress and comedienne Sally Phillips and attended by over 1000 guests.
The Deeside team won the award for Best Label (process) for a composite print for Airwick manufactured for Reckitt Benckiser.
In its decision, the jury highlighted the product as, "a good example of how the latest technologies for expanded gamut can be properly used not only to enhance the colour reproduction, but also to combine different jobs on the same colour pallet".
This award is a good example of Saica's commitment to continue investing in technology and innovation to be up-to-date on market developments and offer the best solutions to its customers.
 About Saica Group
Saica Group is one of the largest European players in the development and production of recycled paper for corrugated board, with a production of 3.2 million tons of recycled paper. With more than 10,000 employees across Spain, France, Italy, Portugal, United Kingdom, Ireland, Turkey, Luxembourg and The Netherlands.
Saica Group has four business areas: production of recycled paper for corrugated board (Saica Paper), waste management and environmental services (Saica Natur), production of corrugated packaging (Saica Pack) and flexible packaging (Saica Flex). The turnover of the multinational is nearly 3.832 million Euros (aggregate sales, 31.12.19).