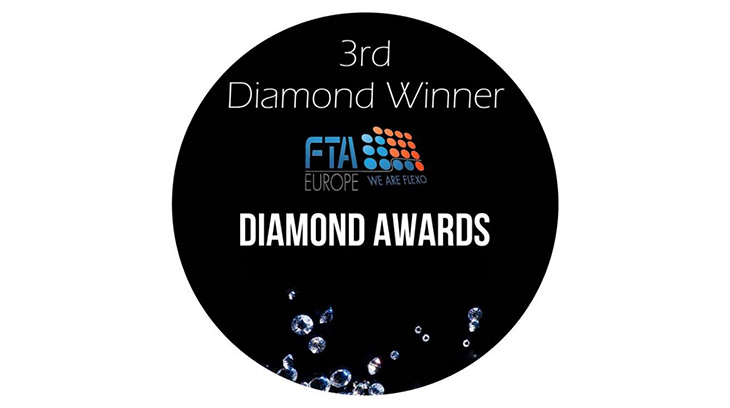 Saica Flex awarded for Unicorn Smarties packaging at 2021 FTA Europe Diamond Awards
Buxton, UK, 06 May 2021
The third edition of the Diamond Awards recognised Saica Flex and Nestlé for their Unicorn Smarties packaging  
This is the packaging's second award after it was celebrated at EFIA's 2020 Awards 
Saica Flex's tailor-made packaging was created for the Unicorn edition of Nestle's chocolate Smarties
FTA Europe, the organisation for flexographic printing associations in Europe, awarded Saica Flex for its Unicorn Smarties packaging, a special edition of Nestle´s packaging. At their 2021 Diamond Awards, the only major flexo event in Europe this year, FTA Europe celebrated the best companies in 14 different flexo print categories. Saica Flex and Nestlé's collaboration was awarded third place in the "Flexo Print on Film, wide web" category.
Saica Flex Buxton developed the flexible packaging solution for Nestle's new edition of their popular Smarties. The impeccable configuration of these tailor-made pastel colour sharing bags combines Saica Flex expertise in design and functionality, earning the flexible packaging division a nomination for the 2020 EFIA Awards. After winning gold, EFIA UK pushed Saica Flex' sample into the 2021 FTA Europe Diamond Awards.
In the words of Simon Proctor, General Manager of Saica Flex Buxton: "the team at Saica Flex Buxton is delighted to have been awarded this prestigious award, and it is testament to the hard work and experience of our wider team in having a deep understanding of the brief through to delivering a high quality finished film to our customer".
Saica Flex participated in the virtual event that took place on April 22nd, competing against more than 50 national gold winners. Among them, it was Saica Pack Beaune, another division on Saica Group, awarded by the Association Technique Française de Flexographie (ATF FR).