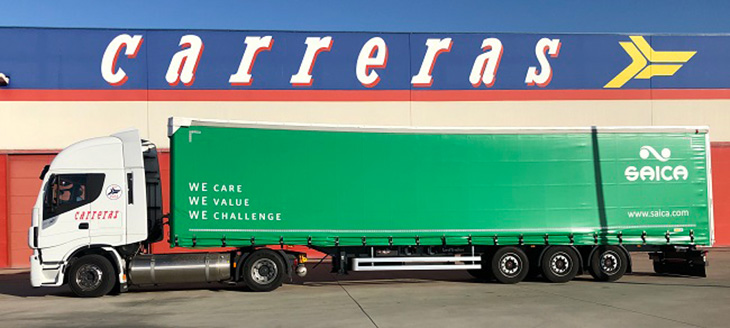 Saica, Carreras and Iveco work together to reduce carbon footprint in freight transportation
Zaragoza, 05 Dec 2019
•The use of Liquefied Natural Gas as fuel will reduce in 22,3% the CO2 emissions versus conventional diesel trucks.

Saica, Carreras and Iveco are collaborating in a pilot project to use Liquefied Natural Gas (LNG) as fuel for mid and long distance freight transportation. LNG is the most ecological fuel for internal-combustion engines that currently exists.

The project, which first test took place at the end of summer, is part of the Lean & Green initiative. Its objective is to decrease in 20% the CO2 emissions of the Supply Chain in a period of 5 years.

Among other actions, Saica is working with Carreras to use Iveco Stralis NP trucks in all mid and long distance transportation, so the CO2 emissions will be reduced in 22,3% versus regular diesel trucks. The new Iveco vehicle, with a 460 CV engine, has the same payload as a traditional truck and a range of up to 1.500 km but with a lesser carbon footprint.

For Saica, Lean&Green project has great importance due to its impact in the decarbonization of the transportation. Besides, is an example of our commitment to work with suppliers and clients to achieve a sustainable development along all the production cycle. About Saica
Saica is one of the largest European players in the development and production of recycled paper for corrugated cardboard, with a production of 3.3 million tonnes of paper. With more than 10,000 employees across Spain, France, Italy, Portugal, UK, Ireland, Turkey, Luxembourg and The Netherlands, Saica has four business areas: production of recycled paper for corrugated board (Saica Paper), waste management and environmental services (Saica Natur), production of corrugated board packaging (Saica Pack) and flexible packaging (Saica Flex). The turnover of the multinational is nearly 4,161 million Euros (aggregate sales, 31.12.18).