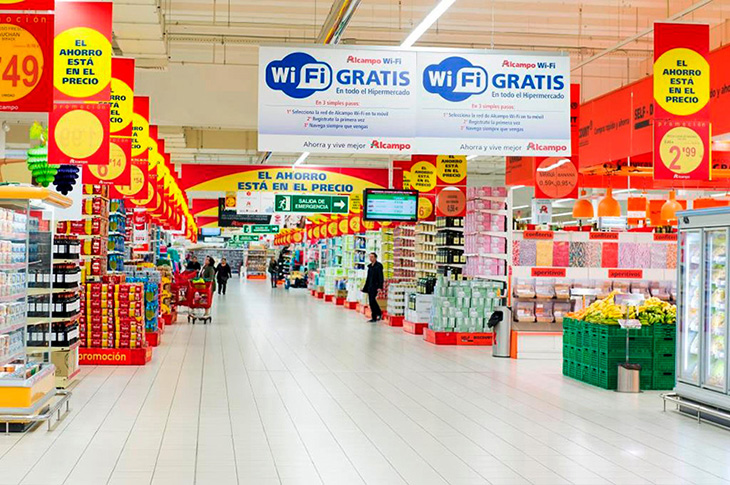 Saica and Auchan Retail Get 11 of the Distributer's Centres in Madrid to Achieve "Zero Waste"
Madrid, 14 Mar 2017
The process developed by Saica achieves the maximum enhancement of the waste generated in shops.
Since 2003, the multination company based in Aragon has had a trusted partnership with the distribution company and the aim is to introduce the project in Catalonia.
With the collaboration of the Aragon based multinational company, Saica, eleven Alcampo hypermarkets in Madrid in the last quarter have achieved the so-called "Zero Waste". This means that all the waste created in that period of time in those hypermarkets in the Community of Madrid have gone directly to recovery and treatment processes without the need to take anything to landfill. The Aragon-based multinational company and Auchan Retail España have been collaborating together in a co-innovation project since 2003. By means of this process they have reintroduced materials into the production circle that up till now had gone to landfill. Thus, Auchan Retail España advances towards circular economy, getting the cardboard to be converted again into recycled paper with which new boxes can be manufactured; the low-density polyethylene are turned into chippings that can be used in the packaging; the inert waste into refuse-derived fuel (RDF) and the organic waste into both compost and energy.
The key to success lies, as pointed out by Saica Natur manager, Victor Sanz, in "achieving a better separation at source together with an optimisation of the different associated internal processes and procedures".
This project has been successfully implemented in Madrid, and is soon to be developed in Catalonia too, with both companies aiming for it to be implemented in all centres where it is technically and financially viable. 
The fight against climate change and the conservation of natural resources, biodiversity and energy efficiency are priorities collected within the United Nation's Sustainable Development Goals, and they are targets that the different member states of the EU also have to fulfil. In this regard, Saica and Auchan Retail España have joined forces to advance in the area of sustainability and to make the concept of circular economy a reality. They do so by favouring an approach towards a sustainable consumption and production model.
From Saica, Sanz reiterated that its activity "has been directed towards two great horizons. On the one hand, the commitment to our clients' objectives and, on the other, towards the commitment with the environment in which we work". That's how we recognise that the integration of the circular economy "has been and will be one of the key elements for our advancement and it allows us to give sustainable solutions to clients such as Auchan Retail España".
The Manager of CSR at Auchan Retail Spain, Yolanda Fernández, stated "managing the waste that we generate in our hypermarkets and supermarkets is one of our priority lines of work. That's why we've created alliances with experts, like Saica, to be able to jointly develop innovative plans that allow us to make our goals of boosting circular economy and fighting against climate change a reality".
About Saica Group
Saica Group is one of the largest European players in the development and production of recycled paper for corrugated board, with a production of 3.2 million tons of recycled paper. With more than 10,000 employees across Spain, France, Italy, Portugal, United Kingdom, Ireland, Turkey, Luxembourg and The Netherlands.
Saica Group has four business areas: production of recycled paper for corrugated board (Saica Paper), waste management and environmental services (Saica Natur), production of corrugated packaging (Saica Pack) and flexible packaging (Saica Flex). The turnover of the multinational is nearly 3.832 million Euros (aggregate sales, 31.12.19).
About Auchan Retail

Auchan Retail España brings together the formats of food commerce, hypermarkets, supermarkets, proximity and e-commerce. It currently has 345 centres (56 Alcampo hypermarkets and 289 Simply supermarkets), as well as 55 petrol stations and an on-line sales service. All of this is attended to by an over 18,000 strong workforce.