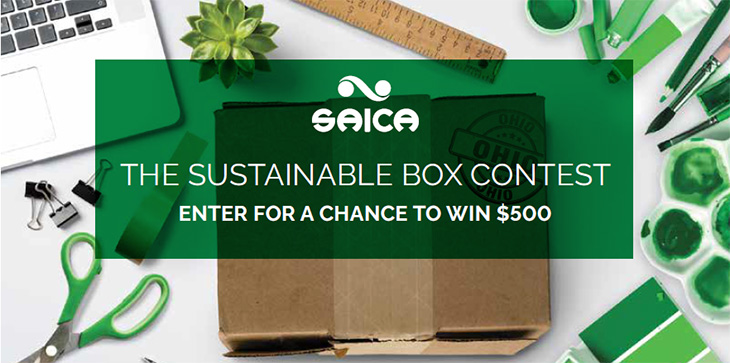 Repurpose a box and win with Saica's sustainable box contest
Hamilton, OH, 23 Aug 2021
Saica Group, a leading manufacturer of recycled paper for corrugated board, wants to demonstrate its commitment to sustainability by asking members of the community to show creative ways for a cardboard box to be repurposed for a chance to win $500.
The contest is open to anyone in the community and it's easy to enter – simply make a creation out of an unused cardboard box, snap a picture and upload to the Saica photo mosaic site: https://usa.saica.com/en/contest/
Entries are due by Oct. 8, 2021 at 12 midnight EDT to be eligible to win.
Saica is celebrating its expansion to the U.S. market and connecting with the Hamilton community as it prepares to open its new plant in the coming months. Teachers and parents are encouraged to show creative ways to repurpose boxes for a chance to win. See https://usa.saica.com/en/ for more about Saica and the contest.
Terms & Conditions for The Sustainable Box Contest:
We are seeking participation from residents, businesses, other friendly partners across the community to use their creativity to turn a box (or boxes) into something fun and new, and share a photo that captures this transformative moment to enter. Three winners will be awarded $500 each for their photo submission. The winners will be announced after October 8, 2021 and all submissions will be judged by a panel including the Saica Group Communications team. Please note, Saica Group recommends consulting with your tax advisor on the possible tax implications of the award. Contest organizers reserve the right to reject objectionable content that is not suitable for our audience.
The Sustainable Box Contest will be promoted by Saica Group through Facebook, but this contest is not associated, endorsed, sponsored or administered by Facebook. By participating in this contest, you are releasing Facebook of any and all responsibility as it relates to this contest.
Details
Submissions must be in by October 8, 2021 midnight Eastern Standard Time to be eligible for the $500 prizes.
Contest is only open to those living in the U.S.A.
Photos should be in their natural format (no filter applied).
Only one entry per person.
By participating in this contest, you are acknowledging and agreeing to these terms.
Original Content: Ownership
By participating in the Contest, each Participant guarantees that they are the exclusive owner of the copyright and all other proprietary rights in any and all materials and content submitted by the Participant to enter the Contest. The Participant further claims and guarantees that they have the right to grant Saica Group the right to use, reproduce, distribute, perform and display any photo, audio file, video, text, etc., and by submitting an entry in the Contest the Participant does grant such rights to Saica Group. All entries must be your own or you may be eliminated from the contest.
About Saica Group
The Saica Group is one of the leading companies in Europe in the manufacture of recycled paper for corrugated board, with an annual production capacity of 3.3 million tons of recycled paper for corrugated board. With more than 10,000 employees and a presence in Spain, France, Italy, Portugal, the United Kingdom, Ireland, Turkey, Luxembourg, the Netherlands and the United States, Saica Group has four business lines: manufacturing of recycled paper for corrugated board (Saica Paper), waste management and environmental services (Saica Natur), production of corrugated board packaging (Saica Pack) and flexible packaging (Saica Flex). The group's turnover is €2,821 million (consolidated turnover at Dec. 31, 2020).
To learn more about Saica's U.S. projects, you can visit: https://usa.saica.com/en/