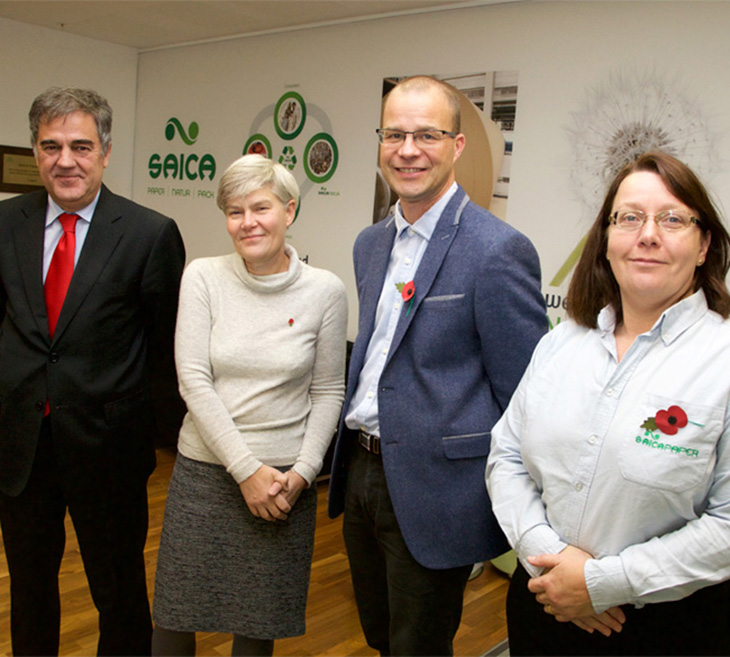 Kate Green MP visits Saica Paper at Greater Manchester's PM-11 Plant.
Zaragoza, 01 Nov 2016
Kate Green, MP for Stretford and Urmston, visited Saica Paper at its Greater Manchester mill, known as PM-11, on Thursday 10th November.
Saica Paper recently welcomed Kate Green, MP for Stretford and Urmston, to its PM-11 site in Carrington, Greater Manchester, to discuss current issues within the industry and also be given a demonstration of Saica's state-of-the-art control room.
Donning protective clothes and boots, she was given a guided tour of the control room to see first-hand its technical capabilities and innovations.
Following the tour of the control room, Ms Green then took part in a round table discussion on a number of issues, including the challenges and opportunities currently facing the industry following the UK's decision to leave the European Union.
Commenting on the event, Ramon Alejandro, President, Saica Group said:
"We were delighted to welcome Kate Green MP to PM11 and show her around our new state-of-the-art control room. Saica's place within the Carrington community is very important to us and it was great to be able to give our local MP a live demonstration of the high-tech equipment.
As a global packaging company committed to investing into the UK, it was fascinating to hear Ms Green's views facing our sector and the wider industry at the moment. We are currently investing over 60million Euros directly into the UK as part of our Renove investment plan."
Commenting on the event, Pasi Hayrynen, Saica's Plant Manager said:
"It was great to listen to Ms Green's views and to discuss the issues facing both our sector and the people of Carrington at the moment."
The PM-11 mill employs state-of-the-art technologies to minimise the environmental impact of producing containerboard papers and is designed to use 40% less water and 50% less electricity per tonne of paper than the industry's guidelines.
About Saica Group
Saica Group is one of the largest European players in the development and production of recycled paper for corrugated board, with a production of 3.2 million tons of recycled paper. With more than 10,000 employees across Spain, France, Italy, Portugal, United Kingdom, Ireland, Turkey, Luxembourg and The Netherlands.
Saica Group has four business areas: production of recycled paper for corrugated board (Saica Paper), waste management and environmental services (Saica Natur), production of corrugated packaging (Saica Pack) and flexible packaging (Saica Flex). The turnover of the multinational is nearly 3.832 million Euros (aggregate sales, 31.12.19).