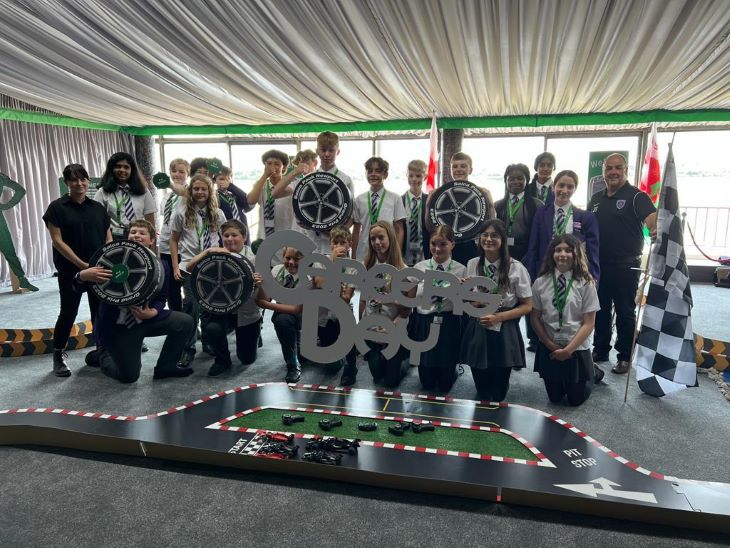 Careers Day held for local pupils at Saica Pack's Newport Plant
Newport, 19 Jul 2023
Saica Pack, part of the Saica Group, recently hosted a successful Careers Day at its site in Newport, South Wales.
A group of Year 8 students from the nearby John Frost School were warmly received at the plant's spectacular marquee that overlooks the River Usk and the mouth of the River Severn. During their visit, the students gained valuable insights into the industry and the range of opportunities within it.

The pupils were treated to a guided tour of the site where they were able to learn more about the production process, before participating in a number of interactive seminars. The seminars covered several topics, including: Technical (Structural Design); External Sales (Approach to Selling); and Graphic Design (Branding & Artwork).
Each seminar included an exciting practical task for the students to challenge themselves, including the opportunity to build a branded Formula 1 Race car from Corrugated Board. The day culminated with the pupils competing in a 'fastest lap' challenge with a remote-control car on a track built from 100% recycled corrugated packaging, featuring key landmarks from Newport.

Clare Lucas, Sales Director, Saica Pack South West, commented: "As an employer that takes its social responsibility seriously, integrating with the local community has always been a priority for us. It was, therefore, a pleasure to welcome students from the John Frost School to our Newport site and witness their enthusiasm to learn. The opportunity to engage with these bright young minds, to share insights about our industry, and to enlighten them on a range of future careers was an incredibly rewarding experience."

Mr David Thomas, teacher at John Frost School, commented: "Careers Day 2023 was a really well organised and rewarding day for all involved. Clare and the rest of the team had worked hard to deliver a day that engaged and captivated the students attention. Throughout the day the students not only had an insight into the processes involved from the planning to the production stage, but also the versatility and vast range of variations possible of cardboard.

"The formula 1 car challenge was brilliant and the students really rose to the challenge in front of them. As a school we can't wait to work closer with Clare and the rest of the Saica team in the future and we would like to thank them again for all the effort they put in to making the day special for the children."
Ms Parry, Teacher at John Frost School commented: "All the students and staff were fully engaged and thoroughly enjoyed all of the interactive tasks focussing on a range of authentic career paths from sales, marketing, graphics and production. A well planned and well executed full day of new experiences for our students. We will be back! Thank you for a brilliant day."