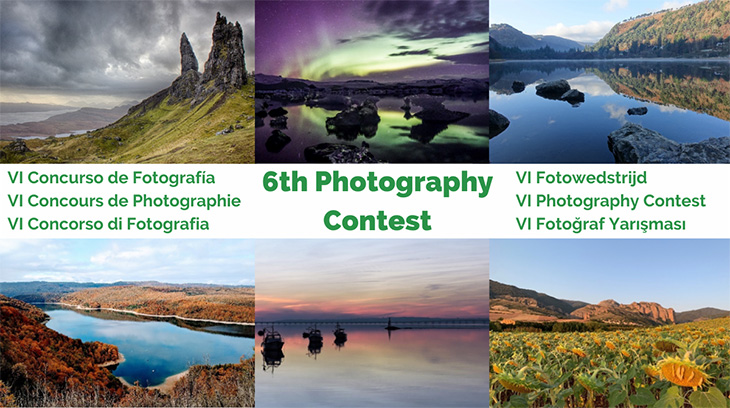 VI Saica Group Environmental Photography Contest
UK, 03 Jun 2022
In order to celebrate World Environment Day, we asked the people who are part of the Saica Group to share with us a place that is special and inspiring to them.
Today we have the pleasure of announcing the winning photos of the "VI Saica Environmental Photography Contest" – an initiative created to celebrate World Environment Day (5 June) and which invites all the people who make up the Saica Group to reflect on the importance that nature has in our lives, doing so with the purpose of rewarding images of places that represent the beauty of nature and spark our interest in visiting them.
This year, 127 people participated from the different divisions and countries where we are present and the contest wrapped up with a good number of photographs, from which 3 winners and 6 runners up have been selected.
We are pleased to announce that the photographs selected were:
1st Prize: EAMON McCORMICK, PACK WARRENPOINT, ISLE OF SKYE (SCOTLAND)
2nd Prize: FERNANDO SANCHO ARAUS, PAPER EL BURGO DE EBRO, JÖKULSÁRLÓN LAKE (ICELAND)
3rd Prize: CHRISTOPHER SMITH, PACK ASHBOURNE, GLENDALOUGH (IRELAND)
Runner Up nº1: LUCIE BARBAGLIA, PACK LAVANCIA, LAC DE VOUGLANS (FRANCE)
Runner Up nº2: SANDRA PEREIRA, NATUR PORTUGAL, ALCOCHETE (PORTUGAL)
Runner Up nº3: PEDRO PECIÑA CASORRÁN, PACK VIANA, MATUTE (LA RIOJA, SPAIN)
Runner Up nº4: LUIS LOPEZ PASTOR, PAPER ZARAGOZA, ES VEDRÀ ISLET (IBIZA, SPAIN)
Runner Up nº5: AYMERIC POCHON, FLEX LUXEMBURGO, (DEATH VALLEY, CALIFORNIA)
Runner Up nº6: DANNY STEWART, PACK EDIMBURGO, (GLENCOE VALLEY, SCOTLAND)
We want to thank all the participants for their contribution and offer our most sincere congratulations to the winners!
We encourage everyone to participate in the VII Saica Group Environmental Photography Contest, which is being organised for the year 2023. More information will be coming your way over the next year.
About Saica
Saica Group is one of the leading companies in Europe in the manufacture of recycled paper for corrugated board, with an annual production capacity of 3.3 million tons of recycled paper for corrugated board. With more than 10,000 employees and a presence in Spain, France, Italy, Portugal, the United Kingdom, Ireland, Turkey, Luxembourg, the Netherlands and the United States, Saica Group has four business lines: manufacture of recycled paper for corrugated board (Saica Paper), waste management and environmental services (Saica Natur), production of corrugated board packaging (Saica Pack) and flexible packaging (Saica Flex). The group's turnover is €3,598 million consolidated turnover at Dec. 31, 2021).