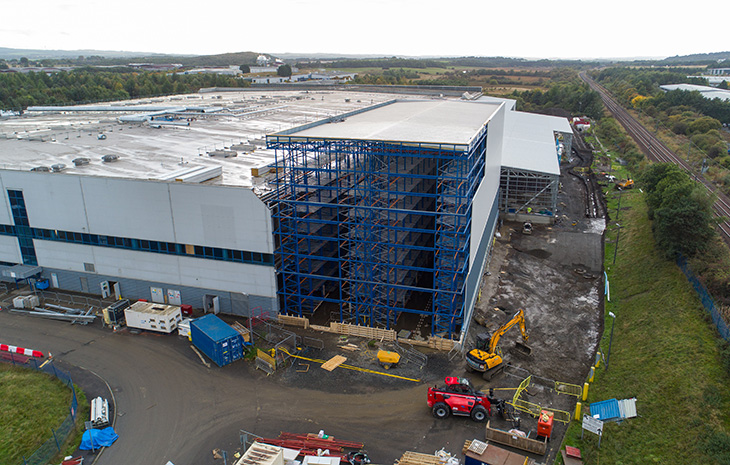 State of the art Livingston facility "progressing at pace"
UK, 24 Mar 2022
Saica Pack's new state of the art manufacturing facility at Livingston, West Lothian, is progressing at pace, with installations nearing completion and operator training underway.

The eagerly-awaited new site will provide increased capacity and capability for customers using the latest technologies, whilst at the same time introducing sustainable packaging solutions to Scotland, in line with Saica's commitments to the environment.
Construction of the site's Fully Automated WIP (Work In Progress Storage System) is progressing well. A UK and Ireland first in the corrugated industry, the system will deliver multiple benefits including energy efficiency gains, increased safety and full flexible storage.
Installation of a new 6-colour high quality post print flexo folder gluer is almost complete, and training of operators of the machine has commenced. This machine will enable the production of high-quality graphics and versatility in one pass, with high die-cutting capability and accurate and consistent folding.
Work is also underway to deliver a new customer collaboration facility that allows customers to spend time with Saica's designers and innovation project managers and walk out with a physical printed conceptual design all in the same day, giving customers the ability to visualise designs in 3D. This facility will enhance Saica's ability to provide complete "end-to-end" packaging solutions for its customers and will greatly enhance customer experience.
Further key milestones are expected in the coming weeks, as the installation of numerous cutting edge machines including a corrugator, rotary die-cutter, and gluers is completed.
Adam Haycock, Regional Director for Saica Pack Scotland, commented: "We are approaching completion on numerous key elements of this site with machine installations taking place and machine operator training getting underway. This will be a landmark site for Saica, using state of the art technologies to improve capacity and customer service while making a vital contribution to our sustainability goals."
The circular economy is at the heart of Saica's operations, with its 2025 Strategic Plan supporting the delivery of sustainable and innovative solutions, and supporting projects aligned with the UN's Sustainable Development Goals.
About Saica Group
Saica Group is one of the largest European players in the development and production of recycled paper for corrugated board, with a production capacity of 3.5 million of short tons of paper. With more than 10,000 employees across Spain, France, Italy, Portugal, United Kingdom, Ireland, Turkey, Luxembourg, the Netherlands and the USA.
Saica Group has four business areas: production of recycled paper for corrugated board (Saica Paper), waste management and environmental services (Saica Natur), production of corrugated packaging (Saica Pack) and flexible packaging (Saica Flex).