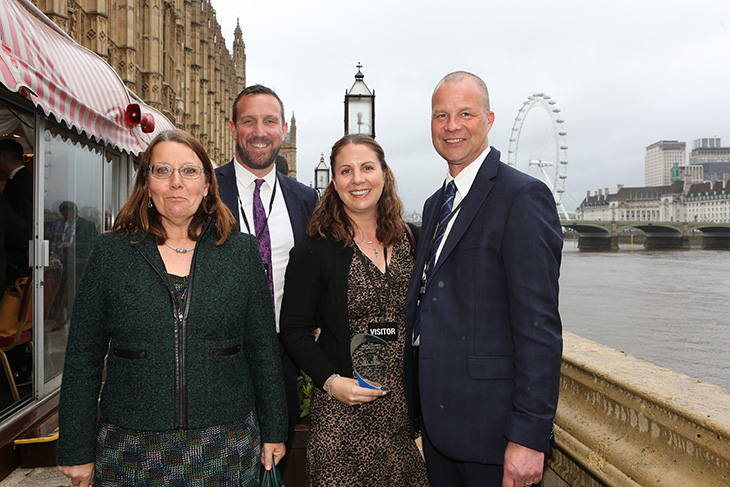 Saica Paper UK recieved the Highly Commended award at the Paper Industry Gold Awards 2022
UK, 08 Jul 2022
The representatives of the UK's Paper-based Industries gathered on the House of Lords Terrace for the first ever Paper Industry Gold Awards.
The awards were organised by the Confederation of Paper Industries (CPI) in partnership with the Paper Gold Medal Association.

Saica Paper UK recieved the Highly Commended award for their entry into the Skills Award category. This award recognises Saica Paper UK as a company that has made a significant investment in skills development and training.
This Commendation recognises the significant amount of time and money that Saica Paper UK has invested in training and developing its workforce to increase skills, knowledge, and competence. Examples of their work include: initial training for new recruits in Spain, competency matrix further education support, as well as papermaking training apprenticeship recruitment and development. This has then evolved over the years as the business and employees have developed in order to suit the requirements at any given time.
Companies can enter specific programmes or initiatives which focus on the development of skills within their workforces and which benefit the future development of the industry by facilitating innovation, greater sustainability and the attractiveness of the industry to new recruits.
The awards demonstrate the work being done to innovate and ensure a sustainable future for the industry, protecting and creating jobs in the UK. Further to this they show the role that businesses in the sector play in their communities.
About Saica Group
Saica Group is one of the leading companies in Europe in the manufacture of recycled paper for corrugated board, with an annual production capacity of 3.3 million tons of recycled paper for corrugated board. With more than 10,000 employees and a presence in Spain, France, Italy, Portugal, the United Kingdom, Ireland, Turkey, Luxembourg, the Netherlands and the United States, Saica Group has four business lines: manufacture of recycled paper for corrugated board (Saica Paper), waste management and environmental services (Saica Natur), production of corrugated board packaging (Saica Pack) and flexible packaging (Saica Flex). The group's turnover is €3,598 million, consolidated turnover at Dec. 31, 2021).