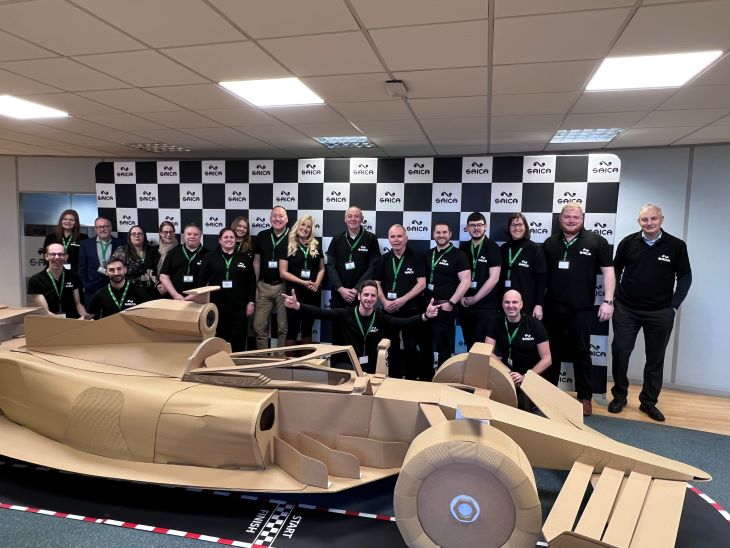 Saica Pack welcomes customers to Formula 1 themed event in Newport
Newport, 19 Jan 2023
Saica Pack welcomed around 20 customers to its Newport site this week for an event aiming to develop close collaborative relationships with its customers and demonstrate the innovation at the heart of its sustainable packaging solutions.
The "Performance Packaging Customer Event" took place on Wednesday 18th January and was hosted on-site in a spectacular marquee with panoramic views of the River Usk and the mouth of the River Severn.

Customers were invited on a tour of Saica Pack Newport's site in order to give them a greater understanding of Saica's production processes and how its sustainable packaging solutions are manufactured, and were able to attend a number of seminars with topics including:

• Performance Packaging: how Saica's Performance Packaging principles improve the strength characteristics of corrugated board through the latest technology in papermaking; and maximise performance characteristics through advanced box mechanics applied to the paper selection and pack design.
• Fuelling Brand Impact: how corrugated packaging can maximise brand impact.
• Speed to Market: how Saica's 'end-to-end' approach improves its customers' speed to market.
The centrepiece of the event was a full size 1:1 scale F1 car, developed by Saica's designers for the event from 100 recyclable paper and corrugated packaging. The 5.5 metre-long car showcases Saica Pack's design skills, innovation and creativity and demonstrates how cardboard can be used as a vehicle to create impactful and sustainable packaging solutions.

Customers were invited to compete in a fun large-scale remote control car race on a track built from 100% recycled corrugated packaging, featuring key landmarks from Newport.

Clare Lucas, Regional Sales Director South West at Saica Pack, commented: "Formula 1 is globally recognised as leading the way in developing innovative technology in the pursuit of Net Zero goals, and is a great reference point for Saica in our use of innovation and technology to deliver sustainable packaging solutions. F1 races are won and lost in the pit lane and by the huge team effort behind the scenes as much as on the track itself, and similarly, our end-to-end approach enables customers to develop a best-in-class product whilst streamlining every stage of the manufacturing process to deliver maximum return on investment.

"This event was a fun way of giving our customers an in-depth insight into our production processes, our end-to-end packaging solutions and our collaborative, customer-centric approach. Sustainability is a core value of ours and events like this are vital to showing customers how we can help them with their own sustainability goals."